Anyone? Anyone? Bueller?
So, thanks to arazel, I learned that the ladies once did a playlist for iTunes back in the day (2005?). Anyways, you can't get it on Canadian iTunes, and I'm just curious to know what's on it.
Does anyone else here think that The Gossip's latest album, Music for Men, is a crappy corporate sellout? I can't listen to it because the computerized beats and guitar loops give me auditory indigestion.
Current Mood:

disappointed
Alright, even though the effort is greatly appreciated, it's getting difficult to keep track of all of the recommended Phish listening. Not to worry, I'll keep combing through the suggestions, downloading live material, and watching You Tube links, but I think I'd like to take some of you up on your offers to hand over some actual material.

So, here's my idea: if you live in the Portland area and have a moment to burn me some CDs of your favorite live Phish shows, let's meet up! (I'd suggest that out-of-towners mail me music, but time is of the essence.) Please don't bring along anything I need to return. I propose that we pick a coffee shop or bar on the east side of town. Tomorrow perhaps? And be prepared, I'll have my video camera along with me.

Thanks!
http://www.npr.org/blogs/monitormix/
i'm just glad she's bringing a video camera. i hope she's prepared for some insane s-k fans.
carrie is meeting up with people who read her blog. no, really.
Remember when we used to do Song of the month? That was awesome right? I am really bad at picking people to do it, so let's do that thing where we volunteer.
So volunteer, or else me,
fast_over_maps
and
tinkerbell917
will pick them all. So, volunteer! Also, if you volunteer I will remind you, how awesome is that?
July:
August:
September:
October:
November:
December:


Thanks!
Does anyone have any Sleater-Kinney (or other band shirts) they don't wear and/or are looking to get rid of? The living room in my new apartment is Sleater-Kinney themed (the piece de resistance being the silver sparkle Danelectro DC-3 hanging over the mantle, with the old lady glass topped coffee table w/ setlists and ticket stubs under the glass running a close second), and I'm thinking of turning some shirts into pillows for the couch. But of course I don't want to part w/ my own, so I figured I'd check to see if anyone had any that needed a good home before I spend $15 on brand new ones just to cut up.



THIS EVENT IS SOLD OUT!

With Laurie Anderson, Carrie Brownstein, Horacio Castellanos Moya, Steve Connell, David Conrad, Mark Z. Danielewski, James Franco, Peter Hirsch, Nick Laird, Walter Mosley, Parker Posey, Lou Reed, Sekou, and Sean Wilsey

Join PEN World Voices for its much-celebrated, always-memorable annual cabaret: an evening of music, literature, writers, and performers unlike any other in the city. This year features rock legend Lou Reed and multimedia guru Laurie Anderson, along with an adaptation of Jonathan Franzen's New York piece in State by State: A Panoramic Portrait of America with Parker Posey, James Franco, Peter Hirsch, Sean Wilsey and Carrie Brownstein. Plus readings by novelist Walter Mosley, Irish poet Nick Laird, author Horacio Castellanos Moya, and actor David Conrad, as well as wizard of literary pastiche Mark Z. Danielewski; and a performance by poetry heavy hitters Sekou (Tha Misfit) and Steve Connell.

When: Saturday, May 2, 2009: 7:30 p.m.
Where: FIAF, Florence Gould Hall, 55 East 59th Street

SOLD OUT
Tickets: $30/$25 FIAF/PEN members/students: www.ticketmaster.com or 212.307.4100

Cosponsored by FIAF
Our beloved Carrie B. will be participating in something called the PEN Cabaret, brought to you by, of course, PEN. Saturday May 2nd at FIAF's Florence Gould Hall on 59th street. and dammit, the thing was sold out by the time i received my PEN Festival brochure! dammit! but follow the link for the superhot pic she has been using as her headshot lately. YUM.
Current Music:

the daily show
So, Nerve has a list of the 40 Sexiest Frontwomen in Rock History. Carrie Brownstein is number 18.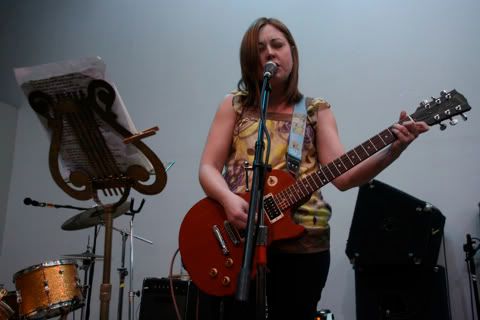 But it gets better. I found the picture here:
Reading Frenzy Benefit at Holocene Not A Sleater-Kinney Reunion
This website is apparently run by one of the original members of Gang of Four? (Whom, incidentally, I have never listened to, but would be open to trying out if anyone has some mp3s to send.)
And the best part is the claim about
Twilight
. I wonder if that bit will turn out to be true. I'm not sure how I'll feel if it is.
So I googled Corin (because, you know, we haven't had enough news on her lately), and came across this picture, which I am posting because I think it is a spectacular photo:


Oh, and she plays drums on it too.

GO GET IT.

the end.

ETA: this is on the online Kill Rock Stars store.
Kill Rock Stars has marked down Heavens To Betsy's LP "Calculated" to 7.99 to celebrate its fifteen years of being in print. If you don't own this album, this is a fabulous chance to get it. It's pretty fabulous, plus you get to hear screamy, dykey Corin goodness.
(
The rest behind here
Collapse
)
I don't have a youtube account, but everyone here who does: go bombard
alison jean
with your undying gratitude!!!!
Also, anyone with a facebook account and a love of Corin, go add her! See
digmeout
's post below.